D.O.B November 9, 2017
HD:A ED:0-0 Eyes:Clear
PRA: Normal/Clear

EIC: Normal/Clear
HNPK: Normal/Clear
CNM: Normal/Clear
DM: Normal/Clear
RD-OSD: Normal/Clear
SD2: Normal/Clear
Long coat: Normal/Clear

Colour: eeBB (pure yellow)
* Fresh semen can be shipped

1x Res.BIS (out of 1500 dogs!)
1x BIS-6 (out of 1200 dogs!)
3x BIG
1x Res.BIG
5x BOB
9x CAC
3x Res.CAC
9x Junior CAC
Dutch Junior Champion
Bundes Jugend Sieger 2018
Qualified for Dog of the Yearshow
Dutch Champion
Holland Cup Winner '21
We love Mac and he is something special for sure. When we used the stunning American dog BISS.Am.Ch.Clearcreek Bonaventure Dust in the Wind for our lovely black girl Int.Sh.Ch.Clearcreek Bonaventure Texas Cowgirl, we could only hope and keep our fingers crossed for a nice litter. Luckily, Texa got in whelp of a good sized litter and it even turned out to be an excellent litter when it comes to health, temperament & type!
This pic definitely shows his temperament: he's a clown!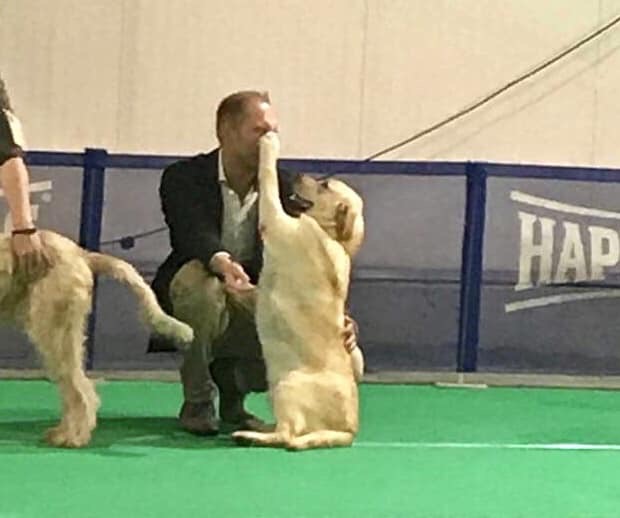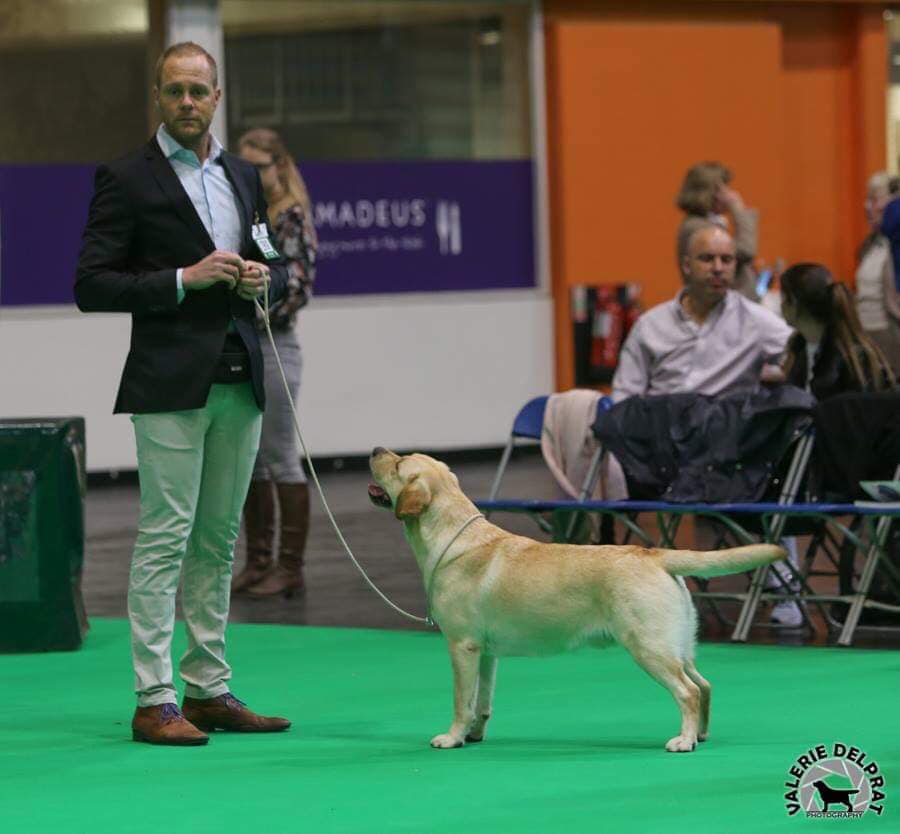 Mac has done really well in the showring already. Highlight was BIG1 and finally BIS-6 out of 1200 dogs at Int.show in Bleiswijk 2018.
Mac loves to show and moves like a dream.
Some nice critiques written by judges:
16 months old, excellent male. Excellent size. Very well developed for his age. Attractive masculine head. Broad in skull, well set ear, nice dark eye, excellent pigmentation and scissors bite. Nice soft expression. Strong neck. Broad in ribcage. Needs to tighten a bit. Excellent coat. Stands really well on his legs. Shows a very nice active and balanced movement. Excellent temperament. (BOB Zwolle, judge Mrs.Pillement-Heijden).
Balanced thoughout. His head is very balanced with excellent pigmentation. Strong neck, well laid shoulders. Good forechest and good angles front and back. Very short hocks which enabe him to move with drive absolutely lovely. (VDH CAC, judge Mrs.Bailiss)
Super junior. Many good points. Attractive head and expression. Beautiful neck which is well set on. Excellent construction. Lovely bone and feet. Perfect ribcage for age. Strong topline. Powerfull rear. Moves with great drive. Excellent coat. Well presented. One for the future! (BOB Bleiswijk, judge Mr.Fryckstrand)